Essential for infant growth
and development

Protein
We've made the amount and quality of protein as close to breast milk as possible.
Including nutrients good for infant growth and reducing ingredients not found in breast milk—both of these things are important.
Not just the single nutrient, but the overall balance of protein has been made similar to breast milk!
Supporting infant growth and development
Composition based on quality and volume of protein found in the Breast Milk Study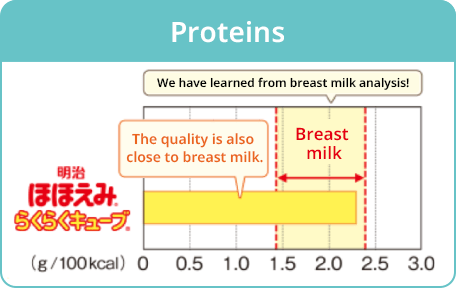 Protein is not a single component, but rather an amalgam of several kinds of proteins. Digestion and absorption rates as well as the amount of individual amino acids contained in each protein found in breast milk differs. While the total amount of protein is of course important for infant growth and development, so is the proper composition of these individual proteins.
The Growth Study found that the protein quality and volume levels were adequate
Individual levels of fats and proteins, which support infant growth and development, as well as the total nutritional composition, were found to be sufficient in infant development.