Yogurt×straining
We compared the taste of strained yogurt and plain yogurt.
| | | |
| --- | --- | --- |
| Strained yogurt is prepared by straining it to remove water and create a creamy form. While strained yogurt has a distinctively smooth texture, how does the process of straining yogurt of excess water change its texture and taste? To answer this, we ran an experiment on strained and plain yogurts and compared their quantified measurements. | | |
Hypothesis: Does the simple process of straining yogurt to remove its excess water change its texture and taste?
Strained yogurt is made simply by straining it to remove its excess water. When yogurt is thickened by removing water and becomes creamy strained yogurt, its texture becomes so smooth, resembling that of cream cheese. How do strained yogurt and regular plain yogurt compare in terms of texture and taste? For this experiment, we decided to use a taste sensor that can quantify the measured raw data of food's taste. We prepared the strained yogurt by straining excess water from plain yogurt to make it twice as thick ("strained yogurt").
Comparison of taste: The strained yogurt had a distinctive aftertaste.
When the measured data on the strained yogurt was compared to that of the plain yogurt, the initial taste in the mouth was almost the same in terms of acidity and sharpness. The same soothing sour taste of plain yogurt was present in the strained yogurt. But there was a major difference in their aftertaste. Relative to the plain yogurt's data as the baseline, the strained yogurt outperformed the plain yogurt by 4.44 points on mild aftertaste, and by 9.72 points on rich aftertaste. As 1 point represents roughly a 20% difference in terms of concentration, these are big difference in taste that anyone can notice.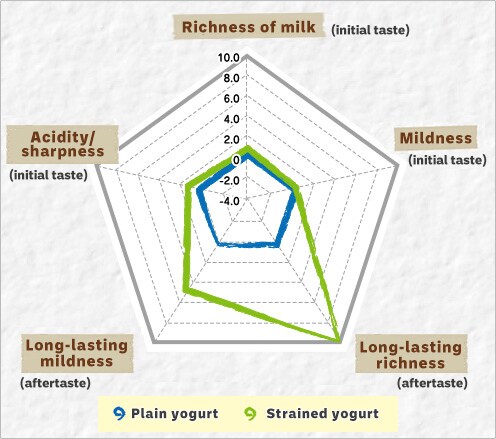 *Data obtained by Meiji Co., Ltd.
Comparison of nutrients: The strained yogurt has high protein and fat content.
Then, we compared the two yogurts in terms of their main nutrition content per 100 g.
Nutrients (per 100 g)
| | Plain yogurt | Strained yogurt | Whey |
| --- | --- | --- | --- |
| Protein(g) | 3.4 | 6.5 | 0.4 |
| Fat(g) | 3.0 | 6.1 | 0.0 |
| Carbohydrate(g) | 5.3 | 5.3 | 5.3 |
| Sodium(mg) | 51 | 47 | 55 |
| Calcium(mg) | 109 | 103 | 115 |
The protein content of the plain yogurt was 3.4 g, while that of the strained yogurt was 6.5 g. As for the fat content, which is the source of richness in taste, it was 3.0 g for the plain yogurt, and 6.1 g for the strained yogurt.
Conclusion: Straining the excess water increased both the protein and fat content of yogurt, and added extra mildness and richness to its taste.
When yogurt is strained, it becomes thicker, and its protein and fat content becomes higher. As a result, the strained yogurt in this experiment improved in terms of mildness and richness in aftertaste, while maintaining the same soothing sour taste of genuine yogurt. This technique of improving yogurt's texture and taste can be applied to cooking to broaden the options of cooking various dishes using yogurt. We first suggest using strained yogurt as a substitute for cream cheese to make canapes or put it on toasted bread. The removed water content, which is called whey, is rich in milk-derived calcium and so should be used, not thrown away.