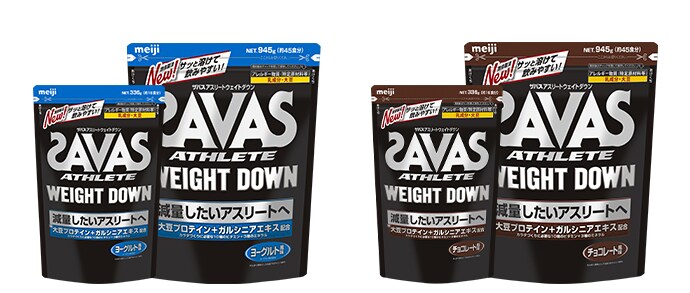 SAVAS WEIGHT DOWN

For a lighter or slimmer physique
Features
Contains soy protein and garcinia extract.
This product provides soy protein to support the development of a toned body.
Especially useful for individuals who are exercising to lose weight but don't wish to lose muscle mass.
Contains 11 vitamins and three minerals.
Easy to lack at the time of weight loss, "11 kinds of vitamins" indispensable for making body, and calcium · iron · magnesium that tends to be lost in sweat are compounded.
● Consuming SAVAS Weight Down twice daily (daily total of around 42 g) gives athletes the 11 vitamins and three minerals they need every day.
(The product's nutritional profile was developed based on surveys of the typical athlete's diet by Meiji Sport Nutritionals Marketing Dept.)
■Yogurt flavor
Ingredients
Fat-free soy protein, dextrin, salt, garcinia extract, vegetable oils and fats/shell calcium, V.C, magnesium oxide, flavoring, emulsifier, sweeteners (aspartame and L-phenylalanine compound, sucralose, acesulfame-K), ferric pyrophosphate, niacin, V.E, V.B2, V.B1, V.B6, calcium pantothenate, V.A, folic acid, V.D, V.B12, (some ingredients contain soy)
Key nutrients
(per 21 g serving)
Calories
79kcal
Vitamin E
1.5mg
Protein
16.8g
Vitamin B1
0.87mg
Fat
0.9g
Vitamin B2
0.93mg
Carbohydrate
0.9g
Niacin
5.8mg
Salt equivalent
0.2-0.6g
Vitamin B6
0.64mg
Calcium
192mg
Folic acid
96μg
Iron
4.8mg
Vitamin B12
0.2μg
Magnesium
96mg
Pantothenic acid
0.62mg
Vitamin A
157μg
Vitamin C
88mg
Vitamin D
2.2μg
● Protein Content 84.5% (per Product Anhydride)
● Garcinia extract 116mg/one meal(21g)
■Chocolate flavor
Ingredients
Fat-free soy protein, cocoa powder, salt, vegetable oils and fats, garcinia extract/ shell calcium, V.C, flavoring, magnesium oxide, thickener(pullulan), sweeteners (aspartame and L-phenylalanine compound, sucralose, acesulfame-K, stevia), emulsifier, ferric pyrophosphate, niacin, V.E, V.B2, V.B1, V.B6, calcium pantothenate, V.A, folic acid, V.D, V.B12, (some ingredients contain soy)
Key nutrients
(per 21 g serving)
Calories
79kcal
Vitamin E
1.5mg
Protein
16.5g
Vitamin B1
0.87mg
Fat
1.0g
Vitamin B2
0.93mg
Carbohydrate
0.9g
Niacin
5.8mg
Salt equivalent
0.3-0.8g
Vitamin B6
0.64mg
Calcium
192mg
Folic acid
96μg
Iron
4.8mg
Vitamin B12
0.2μg
Magnesium
96mg
Pantothenic acid
0.62mg
Vitamin A
157μg
Vitamin C
88mg
Vitamin D
2.2μg
● Protein Content 82% (per Product Anhydride)
● Garcinia extract 116mg/one meal(21g)
Recommended retail price (not including tax)
1,050 g pack (around 50 servings): 5,200 yen
336 g can (around 16 servings): 2,500 yen
Suggested use
Daily dose: twice daily (daily total of around 42 g)
Suggested use (One serving)
(Guidelines)
Using the spoon provided, dissolve three level spoonfuls (around 21 g) in 300 ml of milk or water. (One spoon amount can be over spoonful.) Consume meals and after workouts.
Note: Individuals should adjust the serving size to suit their own needs and preferences.
Note: Consume quickly after dissolving in milk or water.
● Use a protein shaker cup (sold separately) to help dissolve the product and make the shake easier to drink.
● Also enjoy as a protein-rich fruit shake; simply mix in a blender with milk or water and oranges, bananas, or other fruit.
● This product contains calories. To reach your goals, please take into account the product's calorie content when planning your meals, nutritional intake, and exercise regimen.
Storage method
Store in a cool, dry location.
Caution
This product contains garcinia plant extract. Avoid overconsumption.