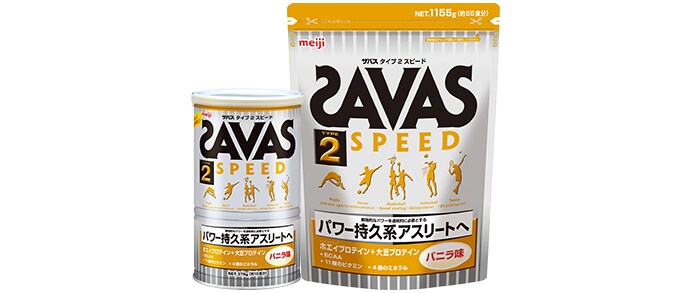 SAVAS Type 2 SPEED

For power/stamina athletes who need sustained explosive power
Features
Whey protein and soy protein fortified with BCAAs
A well-balanced formula of whey protein for strong muscles, soy protein for muscular endurance, and BCAAs (branched-chain amino acids) to help maintain stamina.
Contains 11 vitamins and 4 minerals.
Contains zinc and 11 vitamins, all essential for developing a strong body and readily lost during workouts, as well as the calcium, iron, and magnesium lost through sweat.
● Consume SAVAS Type 2 SPEED twice daily (daily total of around 42 g) to supplement the 11 vitamins and calcium, iron, and magnesium athletes need every day.
(The product's nutritional profile was developed based on surveys of the typical athlete's diet by Meiji Sport Nutritionals Marketing Dept.)
Ingredients
Whey protein, defatted soy protein, dextrin, vegetable fats and oils, zinc yeast/ magnesium carbonate, shell calcium, V.C, leucine, valine, thickening agent (pullulan), emulsifier, flavoring, isoleucine, ferric pyrophosphate, sweeteners (sucralose, acesulfame-K), niacin, V.E, V.B2, V.B1, V.B6, calcium pantothenate, V.A, folic acid, V.D, V.B12, (some ingredients contain milk constituents and soy)
Key nutrients
(per 21 g serving)
| | | | |
| --- | --- | --- | --- |
| Calories | 81kcal | Vitamin D | 2.2μg |
| Protein | 15.0g | Vitamin B1 | 0.87mg |
| Fat | 1.0g | Vitamin B2 | 0.93mg |
| Carbohydrate | 2.9g | Niacin | 8.0mg |
| Calcium | 192mg | Folic acid | 94-228μg |
| Iron | 4.8mg | Vitamin B12 | 0.4-1.9μg |
| Magnesium | 96mg | Pantothenic acid | 0.62mg |
| Zinc | 1.8mg | Vitamin C | 88mg |
| Vitamin A | 157μg | Vitamin E | 1.5mg |
Free valine 53mg
Free leucine 63mg
Free isoleucine 21mg
● Protein Content 74% (per Product Anhydride)
● Amino acid score: 100
Recommended retail price (not including tax)
1,155 g pack (around 55 servings): 5,800 yen
378 g can (around 18 servings): 2,700 yen
Recommended sports
Ball sports, including soccer, basketball, volleyball, tennis, rugby (backs), football (defense); middle-distance track events; speed skating, alpine skiing, sprint cycling
Suggested use
Daily dose: twice daily (daily total of around 42 g)
Suggested use (One serving)
(Guidelines)
Using the spoon provided, dissolve three levelspoonfuls (around 21 g) in 300 ml of water or milk. (the amount for each scoop is less than a level spoonful.)
Note: Individuals should adjust the serving size to suit their own needs and preferences.
Note: Consume quickly after dissolving in milk or water.
● Use a protein shaker cup (sold separately) to help dissolve the product and make the shake easier to drink.
Storage method
Store in a cool, dry location.