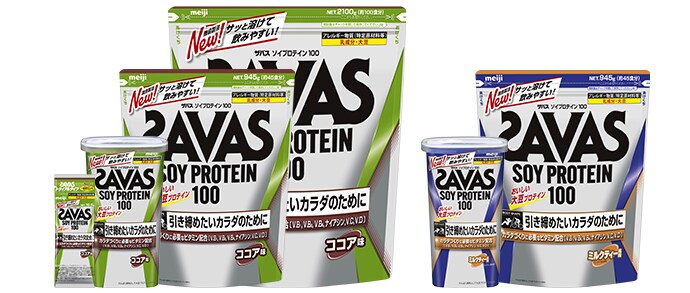 SAVAS Soy Protein 100

For a toned body
Features
100% soy protein
This product offers 100% soy protein to replenish your protein stores immediately after workouts and at other key times. Supports the development of a strong, toned physique.
Contains vitamin C and seven forms of vitamin B.
The product contains vitamin C, crucial for maintaining health, and seven forms of vitamin B, essential for strengthening and developing your physique.
● Consuming SAVAS Soy Protein 100 twice daily (daily total of around 42 g) provides athletes with the daily vitamin C and seven forms of vitamin B they need.
(The product's nutritional profile was developed based on surveys of the typical athlete's diet by Meiji Sport Nutritionals Marketing Dept.)
■Cocoa flavor
Ingredients
Fat-free soy protein, dextrin, cocoa powder, vegetable fats and oils, salt/ emulsifier, V.C, sweeteners (aspartame and L-phenylalanine compound, sucralose, acesulfame-K), flavoring, niacin, V.B2, V.B1, V.B6, calcium pantothenate, folic acid, V.B12, (some ingredients contain soy)
Key nutrients
Per 10.5 g serving

Per 21 g serving
Calories

40kcal

Calories
79kcal
Protein
7.5g
Protein
15.0g
Fat
0.5g
Fat
1.0g
Carbohydrate

1.3g

Carbohydrate
2.6g
Salt equivalent
0.3g
Salt equivalent
0.66g
Vitamin B1
0.44mg
Vitamin B1
0.87mg
Vitamin B2
0.47mg
Vitamin B2
0.93mg
Niacin
2.9mg
Niacin
5.8mg
Vitamin B6
0.32mg
Vitamin B6
0.64mg
Folic acid
48μg
Folic acid
96μg
Vitamin B12
0.1μg
Vitamin B12
0.2μg
Pantothenic acid
0.31mg
Pantothenic acid
0.62mg
Vitamin C
44mg
Vitamin C
88mg
● Protein Content 75% (per Product Anhydride)
■Milk tea flavor
Ingredients
Fat-free soy protein, dextrin, Tea essense powder, vegetable fats and oils, salt/ emulsifier, V.C, sweeteners (aspartame and L-phenylalanine compound, sucralose, acesulfame-K), Caramel pigment, flavoring, niacin, V.B2, V.B1, V.B6, calcium pantothenate, folic acid, V.B12, (some ingredients contain soy)
Key nutrients
(per 21 g serving)
| | |
| --- | --- |
| Calories | 80kcal |
| Protein | 15.0g |
| Fat | 0.9g |
| Carbohydrate | 3.0g |
| Salt equivalent | 0.3-0.9g |
| Vitamin B1 | 0.87mg |
| Vitamin B2 | 0.93mg |
| Niacin | 6.9mg |
| Vitamin B6 | 0.64mg |
| Folic acid | 92-179μg |
| Vitamin B12 | 0.2μg |
| Pantothenic acid | 0.62mg |
| Vitamin C | 88mg |
● Protein Content 75% (per Product Anhydride)
Recommended retail price (not including tax)
2,520 g pack (around 120 servings): 10,500 yen
1,050 g pack (around 50 servings): 5,000 yen
315 g can (around 15 servings): 2,250 yen
Trial type (10.5g): 120 yen
Suggested use
Daily dose: twice daily (daily total of around 42 g)
*One Trial type pack contains half a serving. Two packs (21g) together make one serving.
Suggested use
(Guidelines)
(Trial type)
Dissolve one packet in 100-150 ml of milk or water.
(One serving)
Using the spoon provided, dissolve three spoonfuls (around 21 g) in 200-300 ml of milk or water. (One spoon amount can be over spoonful.)
Consume immediately after workouts, before bedtime, and after breakfast.
Note: Individuals should adjust the serving size to suit their own needs and preferences.
Note: Consume quickly after dissolving in milk or water.
● Use a protein shaker cup (sold separately) to help dissolve the product and make the shake easier to drink.
Storage method
Store in a cool, dry location.