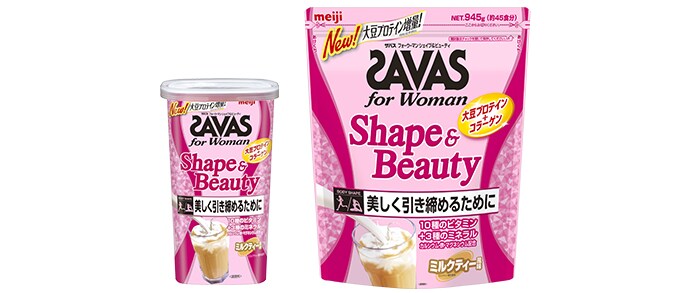 SAVAS SHAPE & BEAUTY

For a toned, beautiful body
Features
Contains ingredients for women who want the ideal nutritional balance to complement their workouts and to help achieve a beautiful, toned body.
Provides an optimized health- and beauty-enhancing combination of soy protein for a toned body and 1,500 mg* of fish collagen for beauty.
Contains 11 vitamins and iron, calcium, and magnesium.
Consume twice daily (daily total of around 28 g); Formulated to contain plenty of iron, calcium, magnesium, and 11 vitamins.

Ingredients
Fat-free soy protein, dextrin, fish collagen peptide, condensed milk powder, black tea extract powder, salt/ shell calcium, emulsifier, magnesium oxide, V.C, caramel coloring, flavoring, ferric pyrophosphate, sweeteners (sucralose, acesulfame-K), niacin, V.E, calcium pantothenate, V.B6, V.B2, V.B1, V.A, folic acid, V.D, V.B12(some ingredients contain milk constituents, soy, and gelatin)
Key nutrients
(per 14 g serving)
Calories
51kcal
Vitamin E
4.0mg
Protein
7.2g
Vitamin B1
0.5mg
Fat
0.3g
Vitamin B2
0.55mg
Carbohydrate
4.8g
Niacin
5.5mg
Salt Equivalent
0.28g
Vitamin B6
0.5mg
Calcium
175mg
Folic Acid
100µg
Magnesium
63mg
Vitamin B12
1.0µg
Iron
3.8mg
Pantothenic Acid
2.75mg
Vitamin A
225µg
Vitamin C
40mg
Vitamin D
2.5µg
Collagen 1500mg
● Protein Content 54.5% (per Product Anhydride)
Recommended retail price (not including tax)
210 g pack (around 15 servings): 1,200 yen
700 g pack (around 50 servings): 3,750 yen
Suggested use
Daily dose: twice daily (daily total of around 28 g)
Suggested use (One serving)
(Guidelines)
Dissolve four rounded teaspoons or two spoonfuls using the spoon provided (around 14 g) in 150 ml of milk or water. (the amount for each scoop using the provided spoon is less than a level spoonful.)
Note: Individuals should adjust the serving size to suit their own needs and preferences.
Note: Consume quickly after dissolving in milk or water.
● Use a protein shaker cup (sold separately) to help dissolve the product and make the shake easier to drink.
Storage method
Store in a cool, dry location.