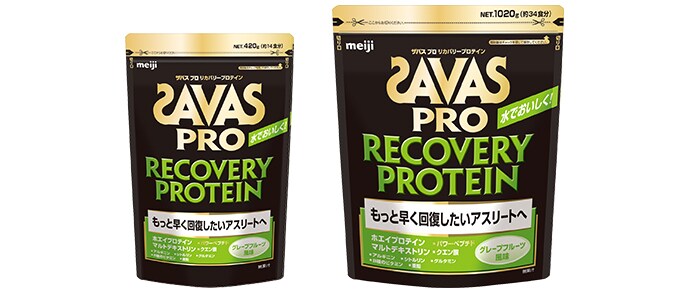 SAVAS PRO RECOVERY PROTEIN

For athletes who need faster recovery
Features
Contains whey protein and maltodextrin.
Provides a good balance of protein and glucose, both essential to the body depleted during workouts, to help athletes recover faster. The protein used is 100% whey protein, an optimal nutritional supplement during recovery periods. The product also contains maltodextrin, an exceptional energy supplement.
Contains whey power peptides and zinc.
Contains whey power peptides and zinc to help the body recover from workouts.
*Whey power peptides developed exclusively by SAVAS consist of whey protein broken down into easily absorbed peptides.
Contains citric acid, 8 vitamins, and 3 amino acids.
Contains healthful citric acid, 8 vitamins essential for developing a strong body, and 3 amino acids essential for maintaining athletic condition.
● Consume SAVAS PRO RECOVERY PROTEIN once daily (daily total of around 30 g) to supplement the 8 vitamins athletes need every day.
(The product's nutritional profile was developed based on surveys of the typical athlete's diet by Meiji Sport Nutritionals Marketing Dept.)
Ingredients
Maltodextrin, whey peptides, whey protein, citrulline, zinc yeast/ glutamine, citric acid, arginine, V.C, sweeteners (acesulfame-K, sucralose), flavoring, thickening agent (pullulan), niacin, V.B2, V.B1, V.B6, calcium pantothenate, folic acid, V.B12, (some ingredients contain milk constituents)
Key nutrients
(per 30 g serving)
| | | | |
| --- | --- | --- | --- |
| Calories | 112kcal | Vitamin B2 | 1.86mg |
| Protein | 11.0g | Niacin | 10.0mg |
| Fat | 0g | Vitamin B6 | 1.28mg |
| Carbohydrate | 17.5g | Folic acid | 177μg |
| Salt equivalent | 0.2g | Vitamin B12 | 0.45-1.22μg |
| Zinc | 7.0mg | Pantothenic acid | 1.24mg |
| Vitamin B1 | 1.74mg | Vitamin C | 176mg |
Glutamine 5000mg
Arginine 500mg
Citrulline 500mg
Citric acid 1850mg
● Contains 2,500 mg of whey power peptides and 14.4 g of maltodextrin per serving (30 g).
● Protein Content 38% (per Product Anhydride)
Recommended retail price (not including tax)
1,020 g pack (around 34 servings): 7,200 yen
420 g pack (around 14 servings): 3,500 yen
Suggested use
Daily dose: once daily (daily total of around 30 g)
Suggested use (One serving)
(Guidelines)
Using the spoon provided, dissolve three level spoonfuls (around 30 g) in 200-300 ml of water. (the amount for each scoop is less than a level spoonful.)
Note: Individuals should adjust the serving size to suit their own needs and preferences.
Note: Consume quickly after dissolving in water.
● Use a protein shaker cup (sold separately) to help dissolve the product and make the shake easier to drink.
Storage method
Store in a cool, dry location.