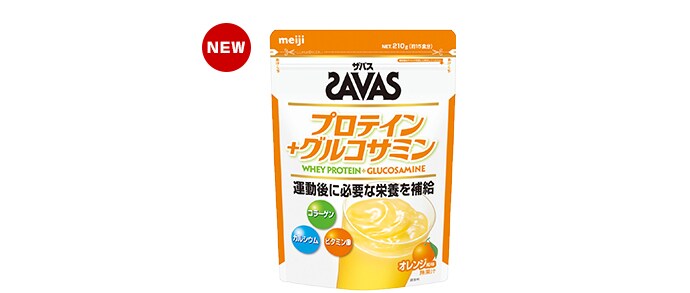 SAVAS PROTEIN PLUS GLUCOSAMINE

For enjoying workouts in a healthy manner
Features
Contains whey protein essential for body development
This product provides rapidly-absorbed whey protein. Whey protein, derived from milk, helps to develop a strong physique.
Contains optimal nutrients for a post-workout body
This product contains glucosamine, collagen peptide, calcium, and vitamin D, which will make your body happy.
Ingredients
Whey protein, dextrin, collagen peptide, calcium lactate, trehalose, glucosamine, emulsifier, sweeteners (acesulfame-K, sucralose), safflower pigment, flavoring, vitamin D (partially containing milk component and gelatin)
Key nutrients per serving (14 g) (based on our analysis)
Calories
52kcal
Salt equivalentt
0g
Protein
6.0g
Calcium
120mg
Fat
0.1g
Vitamin D
10.0µg
Carbohydrate
6.7g
Glucosamine 500mg
Collagen 1000mg
●Contains 45% protein (in dry form)
Recommended retail price (not including tax)
210 g pack (around 15 servings)・・・ 1,500 yen
Suggested use
Daily dose: twice daily (daily total of around 28 g)
The suggested daily dose is one to three sticks a day. Consume as is.
Suggested use
(Guidelines)
Using the spoon provided, dissolve two spoonfuls (around 14 g) in a glass of 150 ml water. (A spoonful means a little less than a level spoonful.)
Note: Individuals should adjust the serving size to suit their own needs and preferences.
Note: Consume quickly after dissolving in water.
Use a protein shaker cup (sold separately) to help dissolve the product and make the shake easier to drink.
Storage method
Store in a cool, dry location.