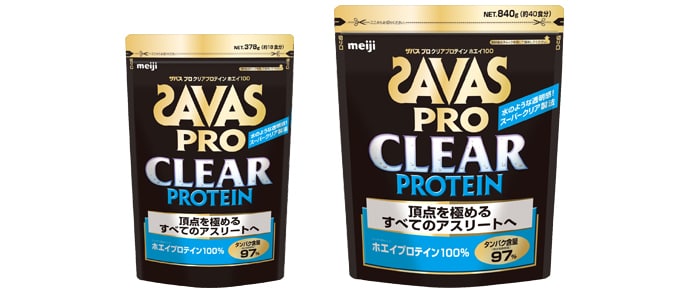 SAVAS PRO CLEAR PROTEIN Whey 100

For all athletes striving for peak performance
Features
Protein Content 97% (per Product Anhydride)
Contains only premium-grade high-purity, highly refined whey protein isolate. A premium product with the maximum content of protein offered by SAVAS.
Clear, refined flavor
Using its exclusive Superclear manufacturing process, SAVAS has worked to make this product as clear as water. The product's neutral taste makes it just right for adding to water or to various food and beverage products, including sports drinks, yogurt, and soup, with minimal effects on flavor. The same properties make it the ideal addition to other protein supplements, with barely any change to flavor. This lets you create your own premium product and get even more protein per serving.
Ingredients
Whey protein/ emulsifier (some ingredients contain milk constituents and soy)
Key nutrients
(per 21 g serving)
| | |
| --- | --- |
| Calories | 78kcal |
| Protein | 19.4g |
| Fat | 0g |
| Carbohydrate | 0.2g |
| Salt equivalent | 0.3g |
● Protein Content 97% (per Product Anhydride)
● Amino acid score: 100
Recommended retail price (not including tax)
840 g pack (around 40 servings): 7,600 yen
378 g pack (around 18 servings): 3,800 yen
Suggested use
Daily dose: twice daily (daily total of around 42 g)
Suggested use (One serving)
(Guidelines)
Add three level spoonfuls (around 21 g) using the spoon provided to 200-300 ml of sports drink, orange juice, water, or tea. Mix thoroughly. (the amount for each scoop is less than a level spoonful.)
Note: You can adjust the amount to suit your own needs and preferences.
Note: Consume immediately after dissolving into a beverage.
● Use a protein shaker cup (sold separately) to help dissolve the product and make the shake easier to drink.

● When mixed into highly acidic drinks like fruit juice, the protein may congeal and settle or float to the top. This does not affect the efficacy of the product.
Storage method
Store in a cool, dry location.